Recently, we published a cost analysis for maintaining an underground sprinkler system, as well as a comparison article with conventional, above-ground sprinklers. In this article, we'll boil it all down, isolate the variables, and localize some advice to our climate. We hope to provide you, a Calgary-area resident, with a straightforward list of reasons why an automated irrigation system may or may not be right for you.
Pros
Alberta's hot, dry summers make it challenging to keep your lawn green. Having a versatile tool like a modern underground sprinkler system at your disposal makes it much easier.
An underground sprinkler system can cover every part of your lawn, no matter its shape or size. 
While we can't guarantee this for every irrigation system ever built, a well-designed one should always be able to achieve this. Full disclosure: we're not just talking about our own work, either. If the sprinkler heads are properly placed, and your plumbing can supply sufficient water pressure to each one, then full coverage should be possible.

We provide a wide selection of fixed and adjustable sprinkler nozzles that can account for any arc angle required, and any distance from 4 to 18 feet. Specialized nozzles can even cover asymmetrical or rectangular areas if needed. Some home and garden retailers offer a decent selection of nozzles as well. With enough forethought, you can expect a decent sprinkler system to water your entire property with minimal runoff.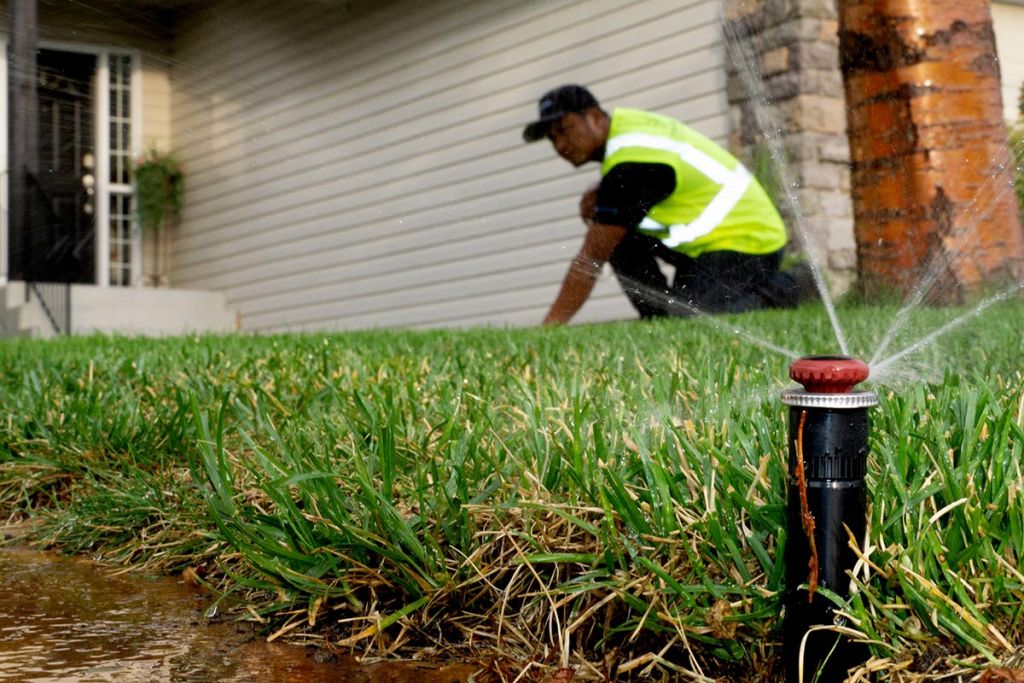 Underground sprinkler systems are fully automated and rarely require any user-input. 
Because of our dry climate, Calgary residents are advised to finish watering their lawns before 7 a.m. in the summer to avoid losing the better part of that moisture to evaporation – but no one in their right mind wants to worry about their lawn before breakfast. 
Luckily, these new-fangled "computers" have trivialized the age-old questions of sprinkler automation. Most irrigation timers allow you to create and store multiple watering programs for various conditions. They can run once a day, three times a week, twice every fourth day – you get the idea. Rain sensors can also tell your timer when to skip a day or two with no user input. Similarly, WiFi-enabled smart timers will automatically adjust runtimes to account for rain or high temperatures. 

Optionally, you can cut out even more work, thanks to fertilizer injectors – or "fertigation" – which uses your sprinkler system to nourish your lawn as it waters. And because you can control every detail from indoors, underground sprinkler systems are also an ideal hands-off lawn care solution for anyone with limited mobility, whether due to age, illness, or injury. 

We recommend that you taper your watering in the spring and fall, and we urge you to do so when the City of Calgary imposes watering restrictions during times of drought. Those are the only times, from spring activation to winterization, when a well-maintained system will demand your attention.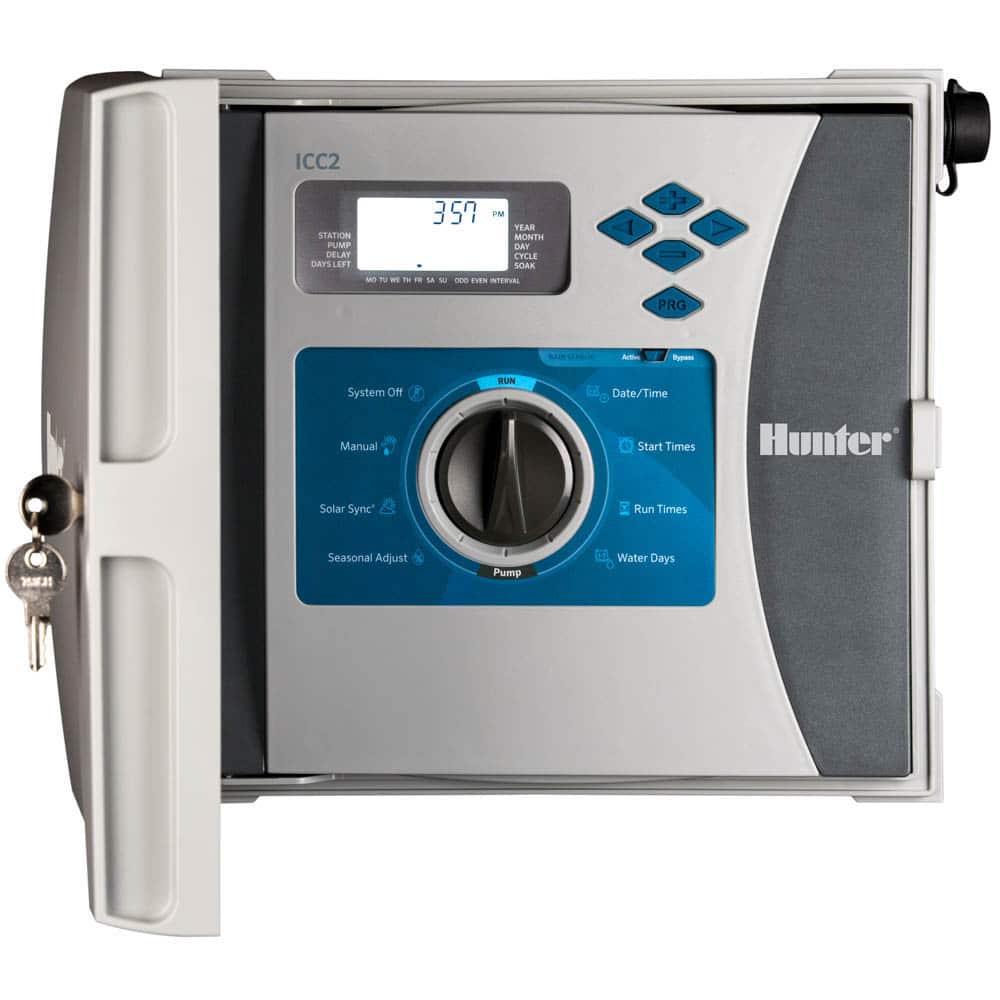 Underground sprinkler systems are the most water-conscious way to keep a lawn green. 
That might sound counter-intuitive if you're never owned an underground sprinkler system before, but (if they're made right) it's true! In addition to the benefits of smart automation described above, the right design can elevate your irrigation system. 

What most people don't realize is just how many factors affect the water needs of different parts of their lawn: not just shade, but also slope, drainage, soil composition, root depth, and even nearby landscaping features such as concrete paths! Depending on your property's size and complexity, it may include dozens of microclimates with different watering needs. When a Certified Irrigation Designer draws up the blueprints for your system, they can tailor their design to your property for maximum efficiency, quenching the spots that need water most without making a swamp out of the spots that don't. 
Because each underground sprinkler system is unique, their construction is highly modular and customizable by necessity.
When one part of your underground sprinkler system breaks, it's just one part. With some careful digging and the right know-how, you or a professional irrigation service technician can add, remove, or replace any part or portion of your underground sprinkler system. You can always upgrade your timer or sensors when something smarter comes along. Sprinkler heads and control valves are quite simple in their construction, and easy to repair or replace. Heads can also be repurposed by changing out their nozzles. New pipes, sprinkler heads, or even whole zones can be added or removed if you ever want to make a major change to your property's landscaping.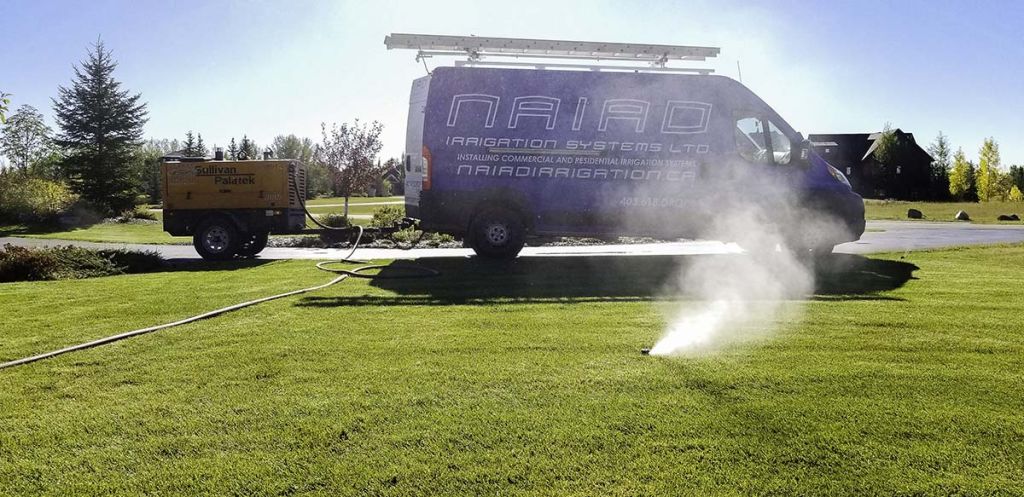 An underground sprinkler system can help you sell your home faster.
In the past, local realty expert Big John Peterson has told us that while an underground sprinkler system may not increase the actual cash value of a residential property, it often helps a home sell faster. Your home will be more attractive to potential buyers due to the convenience of having a sprinkler system already in-place, and the added curb appeal of a healthy, green lawn.
But that's enough patting ourselves on the back. Sources tell us that when people search "pros and cons" before making a major purchase, they know all about the pros already…
Cons
Having an irrigation system professionally designed and installed is very costly. 
Sadly, cost-effectiveness is just not where underground sprinkler systems shine. In 2021, the least we were able to charge for a residential sprinkler system was $3 500. With changes in the supply chain, that same installation would cost at least 30% more this year. Costs also rise dramatically when we need to design a more complex irrigation system, with our most expensive residential installation in 2021 costing $15 000. 

Some veteran handy persons may be able to build a decent sprinkler system for themselves. Even so, the parts alone are likely to run you several hundred dollars. That's not to mention the time, effort, and depth of research it will take to design and install an efficient system. Professionals install irrigation systems that will last longer, require less maintenance, and use less water. This means significant long-term savings.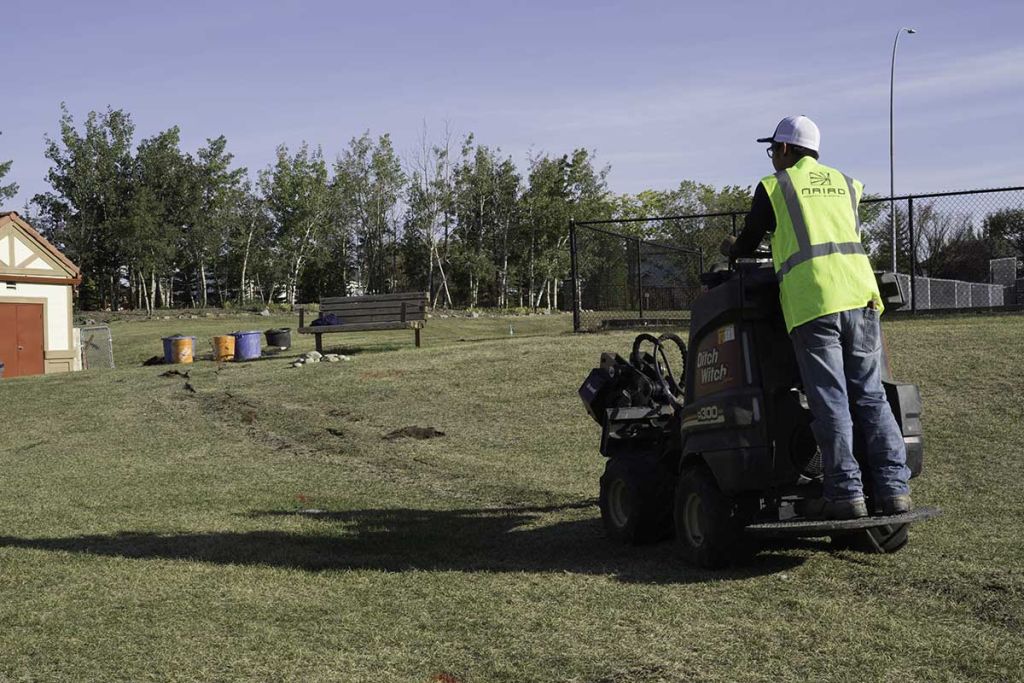 Installing an underground sprinkler system is a messy process, and your lawn will take a few weeks to recover afterward.
I first started at this company as an installer, so I don't need to consult our parts catalogue or badger my coworkers with another hundred questions to tell you it's a messy process. Where there's digging, there's dirt, and where there's water, there's mud. We perform a full clean-up after every installation, of course, but the process is ugly, and your lawn will take some time to forgive you.
To put a sprinkler system under your lawn, we must go through your lawn. We do all we can to minimize digging and mitigate the physical trauma to your grass and its root system, but a lawn is a living thing and will take time to recover from the stress of an installation. We recommend that you stock up on grass seed and fertilizer beforehand. You can expect your lawn to heal within two to four weeks. After this adjustment period, the grass will be well on its way to an enviable emerald green.
Like any other automated system, in-ground sprinklers require regular maintenance.
Owning an underground sprinkler system is, in many ways, like owning a vehicle. You have to consider both the up-front cost of the purchase, and the long-term cost of keeping it in working order.
A vehicle needs insurance; an underground sprinkler system needs annual cross connection tests. A vehicle needs oil changes, or you're really hooped; an underground sprinkler system needs to be winterized – especially here in Calgary, where winter temperatures sometimes approach -40°C, and soil freezes as far as a metre below-ground.
Even preventative maintenance only goes so far. After travelling tens of thousands of kilometres, something in your car will need fixing. After dispensing tens of thousands of litres, the same goes for your underground sprinkler system. Responsible care will greatly extend the lifespan of all sorts of important parts, saving you thousands of dollars on a long-term basis. But eventually, something will just break, simply because the thing is being used.
Ultimately, an underground sprinkler system is a luxury item. It pays for itself with convenience, effectiveness, and efficiency that no other irrigation solution can match. But unfortunately, the up-front costs and mitigating incidentals require disposable income.
If you have the purchasing power, you can do away with a humdrum chore and enjoy a hands-off approach to keeping your grass green and growing. Whether it helps you enjoy your retirement, or just eases the insanity of keeping your home presentable between working and raising a family, an underground sprinkler crosses one thing off your to-do list for good.