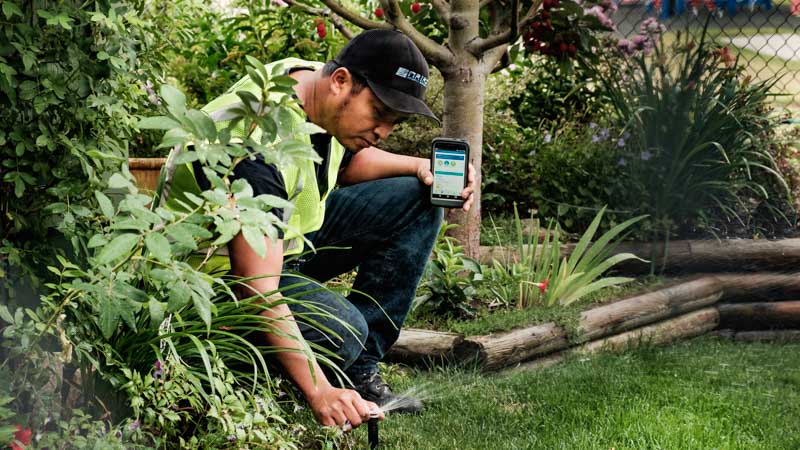 Springtime is approaching, and before you know it, it will be time to reactivate your irrigation system. In our local area of Calgary, Alberta, we usually recommend the first week of May, but this is weather-dependent. Also, your lawn's needs may vary based on its type(s) of grass, clay or sand content in the soil, and especially your local climate. Whenever you decide to activate your system, there is a lot to know beforehand. 
The instructions listed below are based on a residential irrigation system installed by us in Calgary, Alberta. Not all irrigation systems are the same: residential systems vary, larger commercial sites may be much more complex, and different climates also require different types of underground sprinkler installations. For example, some warmer areas have an external water meter in the lawn. 
The list may seem daunting, but it's important to activate your underground sprinkler system very carefully. Even the most robust underground sprinkler systems are vulnerable. The biggest concern would be a water hammer – when your system is accidentally re-pressurized too quickly, and the water slams into control valves or sprinkler heads with far too much force. You need to open your system's valves slowly (taking at least five full seconds), or you could end up with a long, costly repair bill. Pay special attention to steps 4, 7, and 8, where we repeat this important advice.
Of course, if you have any doubts, or even just a busy schedule, we'd love to take care of it for you!
Start on the outside of the house and find your irrigation system's mainline(s) and valve box. Make sure that everything is closed tight, including solenoids, bleed screws, hose bibs, and ball valves. Once everything has been secured, locate the mainline inside the house.
Locate your main water shut-off for the house. Ensure this valve is all the way open; if this is left partially closed, it will restrict the water flow to your irrigation system, affecting its performance. Downstream of the main water shut-off, you should see a water meter. Usually just downstream of that, you will find the isolation valve for the irrigation line, along with a cross-connection device – usually a double check valve assembly (DCVA). 

It is very important to have your DCVA, or other cross connection device, tested yearly prior to turning on the underground sprinkler system. This test must be performed by someone certified by the American Waterworks Association and recognized by the City of Calgary – such as Naiad Irrigation Systems! 
If you have an older irrigation system, it may lack a DCVA. We highly recommend that you have a testable DCVA installed, in accordance with City of Calgary bylaws and the National Plumbing Code of Canada. If your system features fertigation (fertilizer injection), it will require a Reduced Pressure Zone (RPZ) device instead. 

Also check the mainline inside for any drains. They may be boiler drains, ball valves, or hose bibs with nothing connected to the outlet. Make sure they are closed tight. 
Double check that everything is closed and secure. Once this is confirmed, slowly open the main valve to turn the water on to your sprinkler systems. Please note that the valve must be opened slowly (taking at least five full seconds) to prevent water hammer. 
Listen carefully to the flowing water and the vibration of the line. If everything is closed and secure, the line will fully pressurize and you will no longer hear water flowing after about twenty seconds. If you still hear the water running, it is a good idea to shut it off and look for leaks between the main valve inside and the external isolation valve outside. 
If the water seems to have stopped running, take a look at your water meter to double-check. If it is still turning, you may yet have a leak in your irrigation system – that, or a tap may be open somewhere in your house. Make sure any faucets, showers, washing machines, humidifiers, or anything else in your house that might consume water is turned off before using your water meter to check for leaks. 
Once you are sure there are no leaks leading up to your valve box, you can go outside to open the external isolation valve and charge the irrigation system. Again, do this slowly to prevent water hammer. Repeat steps five and six to make sure there are no leaks between the external isolation valve and the control valves. 

It's important to make sure that all the valves upstream of your sprinkler system are fully open. We cannot emphasize enough that you must assure there are no leaks, blockages, or partially-closed valves, as your sprinkler system will perform very poorly if its water pressure is insufficient. 

Now that everything is fully open and you know there are no leaks, you can slowly turn on each zone manually using the solenoid or bleed screw on its control valve. Ensure that there are no leaks, defective sprinkler heads, or pressure issues. You should also test each zone a second time, using your timer instead of turning them on manually. This way, you can assure that your sprinkler system's electronics – the timer and solenoids – are functional too. 
Once you have verified that there are no issues, you are okay to program your irrigation timer for the season. Note that if you are activating your system in the spring, you may not need to run it as often. Cut back the days or invest in a WiFi-enabled smart timer that adjusts your irrigation runtimes automatically based on local weather. We recommend the Hunter Hydrawise Wi-Fi timer. 
If these instructions do not seem to apply to your own underground sprinkler system, or you still feel uncertain after reading, we recommend you have it activated by a professional. Nearly all irrigation companies, including us at Naiad, are happy to provide this service. A knowledgeable technician can also check for leaks and faults in your system while they work, helping to solve any problems sooner. Our base price is $185.50 for an activation, or $159.00 for annual members, if your sprinkler system has 1-4 zones. For each additional zone, we charge an additional $8.75. Consider making a spring activation appointment as well when you go to book your annual cross connection test. 
Book a service or call us today @ 587-200-3994. We provide top-notch services from Irrigation Association-certified professionals.